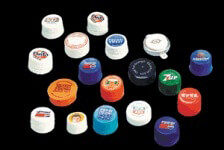 The Desco range of cap and closure printers is designed to produce precise register and superb print quality at speeds of up to 4000 parts per minute and in up to 6 colors. Options are available for both flatbed and for rotary parts handling to suit specific production requirements.
DRCP-4 Four Color Rotary
DRCP-4 - Four Color Rotary Cap Printer
Benefits
Machine can be provided with up to 4 colors
Totally automatic and capable of orienting, feeding, pre-treat, printing, UV drying, counting and boxing closures
Welded steel construction
Ink is cured while closure is still on platen
Perfect register printing (gear to gear drive system)
Running registration — radial and lateral adjustment can be made while press is operating
Anti-backlash gearing throughout
Swing-away roll section for access to plate cylinder
Variable speed motor driven ink fountains
Accessories & Options
Pre-feed systems
Flame or Corona treat systems
Vacuum destaticizers
Automatic closure inspection system
Counting and boxing
The most effective combination of printer and accessories for your application can only be determined by analysis of your specific closure requirements.  Based on our global experience of many field installations, we welcome the opportunity to make an analysis and forward our recommendation to you.