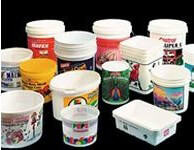 Our range of Pail & Bucket Printers
Desco Pail Printers are designed to provide high-speed continuous production. Desco's renowned high quality of construction, combined with industry leading dry offset printing heads, has always offered the ultimate in high quality and reliability for the production of all types of artwork onto buckets, pails and similar shaped containers.
Models are available to suit all levels of production requirements and every machine is available with a range of options that cannot be matched by any other manufacturer. Every machine is offered with a variety of different product handling solutions to suit individual requirements for automated feeding, nesting, de-nesting, stacking, etc. Each model is optionally available with UV drying on Mandrel (UVM).
Whatever your requirements, whether for round, oval, square or rectangular pails, Desco have the best solutions available anywhere. Every machine is customized to meet each customer's individual specifications to provide a perfect fit for your production needs.
The most effective combination of pail printer & accessories for your application can only be determined by analysis of your specific pail printing requirements. Based on our global experience of over 300 machine installations, we can supply the right solutions.
Features & Benefits
Standard Features & Benefits
| Item | Feature | Benefit |
| --- | --- | --- |
| 1. | Welded Steel Machine Base & Blanket Tower | Rigid integrated structure prevents any flexing or movement of the print carriage assemblies to ensure flawless print accuracy. |
| 2. | Positive Timing throughout the Machine | As a helical gear driven machine, there are less wear and tear related issues which are typically associated with timing belts and chains. |
| 3. | Flame Treating System (adjustable flame length 6-12 inches) | Provides ideal levels of pre-print surface tension in the substrate material to ensure a receptive surface and optimum ink adhesion. |
| 4. | Adjustments for Print Angle, Print Height & Print Pressure | Print system is easily and quickly adaptable for different sizes of container, reduces downtime. |
| 5. | Accurate Registration Printing in up to 4, 6 or 8 Colors depending on machine type | High quality printing without variation from product to product. |
| 6. | All Printing in One Pass – Line, Halftone, Full Process or any combination | All colors are transferred to the product in a single rotation of the offset blanket drum, thus guaranteeing registration and quality. |
| 7. | Large Diameter Form Roll to Eliminate Ghost | Prevents inconsistencies in inking densities caused by the inadequate ink transfer ability of smaller diameter form rolls, ensures better overall print quality. |
| 8. | Anti-Backlash Plate Cylinder Gearing all Helical Gears | Eliminates any gear marking or inconsistencies in print due to imperfect gear adjustments, providing a higher printing quality. |
| 9. | Micro Axial & Radial Plate Cylinder Adjustments | Allows fast and precise adjustments for registration between colors when setting up new artworks, reduces downtime. |
| 10. | Swing-Away Ink Roll Sections | Provides easy access for operators for plate mounting and for cleaning, saving time and effort. |
| 11. | Variable Speed Ink Fountain Roll Drive Motor | Ensures totally consistent ink transfer every time the dance roller operates to add ink to the print head distribution rolls, provides better quality printing. |
| 12. | Swing Control Panel | Allows the operator to monitor and control the machine from different positions as required, saving time and effort. |
| 13. | Full Electronic Control & Systems Monitor through PLC with Diagnostic Display | Provides operators and technicians with all the necessary information and controls to run and service the machine successfully. |
| 14. | Heavy Duty Index Cam | Provides precise indexing, stability during the printing operation and the durability required for 24/7 operation for years to come. |
| 15. | Safety Shielding & Guarding | Prevents accidents – meets statutory requirements. |