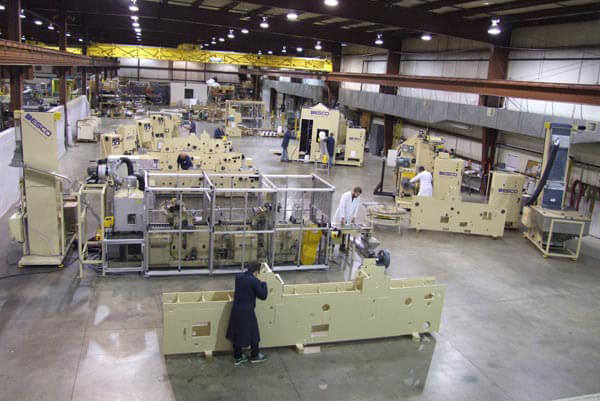 Manufacturing
Our state-of-the-art manufacturing facility of 50,000 square feet is located on 8 acres. Our manufacturing floor is divided into assembly bays for each machine model we are building.
Our overhead crane system runs the length of the manufacturing floor, and removes the constraints of conventional systems; thus providing safe, efficient and precise assembly of all machines.
DESCO is active in the global market and is doing business in numerous countries around the world. We provide a total service commitment to our customers and offer quality products at reasonable prices.
We can provide the printing machines, spare parts, printing plates, inks and blankets... the complete package!
Our Promise
DESCO's sales process does not stop after you receive your printing solution. We aim to work with your company every step of the way, long after you are comfortable using your printer. DESCO develops a long-term relationship with your company and forges a partnership to ensure that your company is completely satisfied with their new investment - now and in the future.
How We Do It
Our sales process begins with getting to know you and your needs. We then build the concept for a machine that completely fits your needs. Because our printers are designed and built in-house, we are able to customize any of our products to work with your process — instead of you having to change your process to fit our printers.
DESCO welcomes you or any member of your company to visit our facility at any time.
If you have any questions or require more information, please contact us.